Oregon Kiteboarding Spots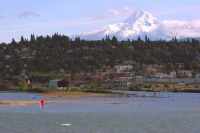 Located in the world famous Columbia River Gorge, the Hood River Sandbar is windy almost everyday April - September. Gusty strong wind, river currents, barge traffic, and often crowded conditions make it a challenge to ride at times. Our guide tells you how avoid the mess and have a great session.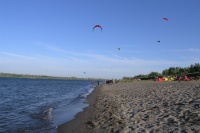 35 minutes from Portland, Sauvie Island is an Oregonian urban kiteboarders favorite spot. Winds generally are light but consistent all summer long, conditions can be crowded on the main launch but easily avoided by a short walk upwind. Check out our guide for all the information.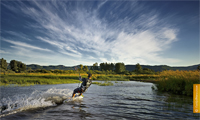 Leave the Gorge crowds behind, and stop getting skunked at Sauvies! Head to Jones Beach for strong winds, wide open sandy beaches, and even some epic flat water. Check out our guide for all the goods.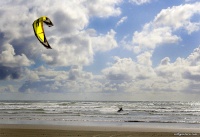 The Oregon North Coast offers up some of the worlds best kiteboarding conditions. With the smoothest most consistent wind in the state, awesome wave riding potential, opportunity for huge downwinders, and breathtaking scenery. That said the cold water, waves, tides, and rip currents will remind you that this ain't no lake. Check our guide for all the information on how to get the best of the Oregon Coast.
Wind Information
Oregon/Washington Forecast Resources
More Gorge Spots
Gorge Launches (CGWA)
- Here's a great guide of all the launches in the Gorge. Though this was wrirten for Windsurfers, you will find that most of these spots are accessible to kiteboarders as well.
Oregon Snowkiting Spots
USSnowKite.com
- A great guide on Gorge based snowkiting spots.
Northern Washington Kiteboarding Spots
Seattle Kiteboarding Center
- Check with the Seattle Kitesurfing Association web site for the best info on: Carkeek to Golden Gardens, Richmond Beach, Jetty Island (Everett), Warren G. Magnuson Park (aka Sand Point, Maggie), Golden Gardens (aka GG), Double Bluff, and Purdy.
Southern Oregon Kiteboarding Spots
Southern Oregon Kite Addicts
- Cool site featuring information for Southern Oregon kiteboarding spots.